SUN-THUR 11AM - 11PM
FRI-SAT 11AM - 12AM
Last Call: 30 Minutes Before Closing Time
12728 Foothill Blvd
Rancho Cucamonga, CA 91739
909.899.1111
kbbqugrill@gmail.com
At U Grill, your neighborhood Korean Barbeque restaurant, you get to pick and choose from our premium selection of marbled beef, chicken, pork, seafood and vegetables to grill at your very own table.
We have a large "All You Can Eat" menu that will satisfy any flavors your taste buds are in the mood for! To accompany your meal we offer a variety of "Banchan", Korean side dishes, along with a fine selection of refreshing beer and alcohol.
Our restaurant brings the authentic Korean Barbeque experience in a vibrant setting perfect for any occasion, any day of the week!
We would love to host your Birthdays, large parties or any other special event! Come dine with us today and experience authentic Korean tastes with exceptional service!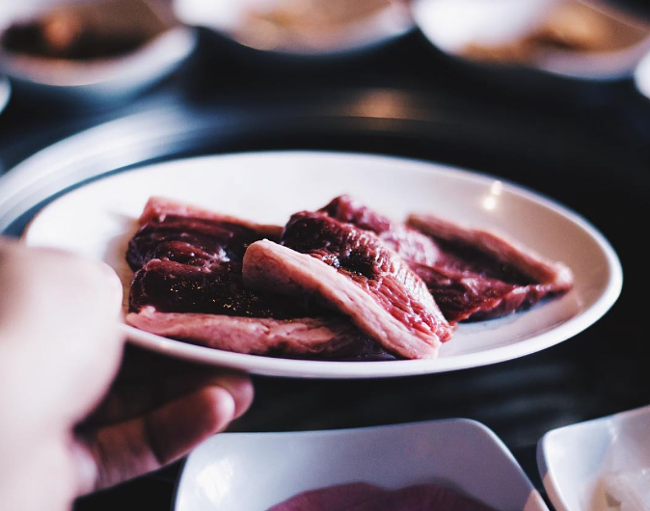 Address:
12728 Foothill Blvd,
Rancho Cucamonga, CA 91739
Phone:
909.899.1111
Email:
kbbqugrill@gmail.com
Store Hours:
Sun - Thur 11am - 11pm**
Fri – Sat 11am - Midnight**
Lunch served only M-F
** Last Call for food and side orders is 30 minutes before closing time.
Happy Hour
• Mon - Fri 3pm - 6pm
• Mon - Sun 9pm - close
$3 KIRIN BUD LIGHT PINTS
$10 KIRIN BUD LIGHT PITCHERS
$2 OFF PITCHERS
$1 OFF DRAFT BEERS
$1 OFF SOJU
$3 OFF LG SOJU COOLER
$2 OFF SM SOJU COOLER
THIRTY THREE ITEMS
TO CHOOSE FROM ​
THIRTY SIX ITEMS
TO CHOOSE FROM ​
FORTY SEVEN ITEMS
TO CHOOSE FROM ​
MEATS
Premium Beef Brisket

Premium Marinated Beef

Spicy Marinated Beef

Premium Beef Belly

Premium Pork Belly

Garlic Pork Belly

Spicy Pork Belly

Curry Marinated Pork Belly

Finely Sliced Pork Belly

Premium Pork Collar

Marinated Pork Collar

Spicy Pork

Marinated Pork Short Rib

Spicy Pork Short Rib

Pork Skin

Spicy Pork Skin

Curry Chicken

Garlic Chicken
19. Teriyaki Chicken
20. Spicy Chicken
21. Marinated Ox Small Intestine
22. Marinated Ox Large Intestine
23. Fresh Shrimp
24. Marinated Calamari Steak
SIDES
25. Corn Cheese
26. Steamed Egg
27. Korean Party Noodle Soup
28. Soy Bean Stew
29. Soft Tofu Stew
30. Kimchi Stew
31. Assorted Vegetables
32. Stir Fried Potato Noodle
33. Scorched Rice Soup
MEATS
Premium Beef Brisket
Premium Marinated Beef
Spicy Marinated Beef
Premium Beef Belly
Premium Pork Belly
Garlic Pork Belly
Spicy Pork Belly
Curry Marinated Pork Belly

Finely Sliced Pork Belly

Premium Pork Collar

Marinated Pork Collar

Spicy Pork

Marinated Pork Short Rib

Spicy Pork Short Rib
Pork Skin
Spicy Pork Skin
Curry Chicken
Garlic Chicken
Teriyaki Chicken
Spicy Chicken
21. Jalapeno Chicken
22. Marinated Ox Small Intestine
23. Marinated Ox Large Intestine
24. Fresh Shrimp
25. North Korean Clam
26. Spicy Baby Octopus
27. Marinated Calamari Steak
SIDES
28. Corn Cheese
29. Steamed Egg
30. Korean Party Noodle Soup
31. Soy Bean Stew
32. Soft Tofu Stew
33. Kimchi Stew
34. Assorted Vegetables
35. Stir Fried Potato Noodle
36. Scorched Rice Soup
MEATS
Premium Beef Brisket
Premium Marinated Beef
Spicy Marinated Beef
Premium Beef Belly
Premium Pork Belly
Garlic Pork Belly
Spicy Pork Belly
Curry Marinated Pork Belly

Finely Sliced Pork Belly

Premium Pork Collar

Marinated Pork Collar

Spicy Pork

Marinated Pork Short Rib

Spicy Pork Short Rib
Pork Skin
Spicy Pork Skin
Curry Chicken
Garlic Chicken

Teriyaki Chicken

Spicy Chicken
Jalapeno Chicken

Marinated Ox Small Intestine

Marinated Ox Large Intestine

Fresh Shrimp

North Korean Clam

Spicy Baby Octopus
SIDES
39. Corn Cheese
40. Steamed Egg
41. Korean Party Noodle Soup
42. Soy Bean Stew
43. Soft Tofu Stew
44. Kimchi Stew
45. Assorted Vegetables
46. Stir Fried Potato Noodle
47. Scorched Rice Soup
27. Marinated Calamari Steak
28. U-Grill Premium Steak
29. Marinated UG Premium Steak w/ Pineapple
30. Jalapeno Beef Belly Steak
31. Top Blade Steak
32. Finger Short Rib
33. Marinated Finger Short Rib
34. Marinated Chuck Flap Tail
35. Premium Beef Tongue
36. Marinated Beef Short Rib
37. Premium Pork Cheek
38. Spicy Chicken with Cheese
​